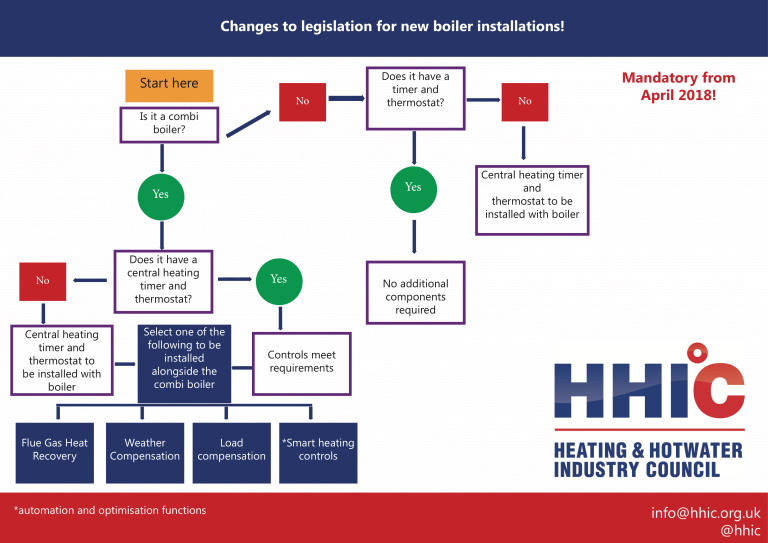 Boilers last between 10 & 15 years and sometimes much longer, so you can be forgiven for not keeping up to date with the latest legislations around boilers. Something changed last year that may affect you next time you change your boiler, grab a cup of tea and we will explain.
New Legislation
From April 2018 the legislation around heating manufacture and installation in the UK changed, these changes were introduced by the Department for Business, Energy and Industrial Strategy (BEIS).
The most notable changes were:
– A minimum efficiency level for all boilers manufactured and installed was set
– Time and temperature controls required for all gas and oil boiler installations
– Combi boiler installations must also include one of the following: Weather compensation, Load compensation, Flue Gas Heat Recovery, Smart controls.
These are new Building Regulations so will be applied for all new builds and those developing properties or replacing a boiler. The legislation is designed to help the UK meet the carbon emissions targets by 2020.
Energy & Cost Savings
The Government document sets out a typical consumer's costs and energy savings from Boiler plus in the first year of operation and is shown in the table below: 
Learning thermostats (smart control)
Additional upfront costs (£)
The results show that learning thermostats which is included in a Genius Hub Smart heating system and load compensators pay back within a typical heating systems lifetime (15 years). 
Get ready
Further legislation is likely in this space to continue the drive for greater energy efficiency of UK households. You can get ahead of this by installing a Genius Hub Smart heating system which not only meets the current Boiler Plus legislation but takes you further and provides greater energy and costs savings.