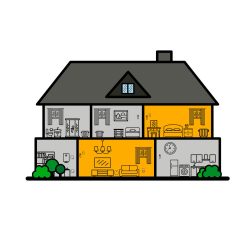 Attention to HMO and student landlords! Creating a quote with Genius Hub just got even easier. With our new and improved Create Your System design tool you can now select a preset to base your design from. Then you can make the further amendments to create the perfect design for your HMO property. However, do not fear if you aren't a landlord we have other presets for you to choose from such as from scratch, three bed, four bed or flat. 
 As a supplier of controls for large properties we understand that when designing a system for your property it can seem to be very repetitive as all of your rooms will have a similar setup. With our new Create Your System tool we wanted to ensure it was as easy and efficient to use so we have added a duplicate button. This means that when adding zones with the same setup they can be easily added with the click of a button.
We have also added our new products to our Create Your System including the all new Electric Relay , Genius Motion Sensor and Powered Room Thermostat. These devices can easily be included into a zone or alternatively added as additional items at the bottom of the Create Your System tool. 
Please remember our technical sales team are always here to answer any questions you have about your proposed design, so please feel free to contact us.
Alternatively please click here to find out more about how the Genius Hub system can control the heating for your HMO/ student property.